The following is an excerpt from Bishop Steiner Ball's opening sermon at Annual Conference.  The full text can be read here.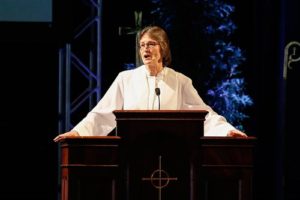 …Our world is filled with thousands of people who are paralyzed with fear, who are looking for hope and light everywhere, how will they find the true source of life if we aren't out there continually, out everywhere in the world teaching and sharing and telling stories of what Christ did for us.  Modeling what Christ through others' efforts have taught us.
As Christians we know the only real hope for people in this world is not found in human potential, but in divine power.  Only as God the Holy Spirit working through the word of God gets ahold of our hearts and changes us from the inside out will there been any hope for improved life on Earth and eternal life in heaven.
So what are you waiting for, church?  Don't leave this teaching job up to a few.  Go, teach.  But as you go teach don't go unprepared or unequipped.  This table calls us to remember that it's got to start with us.  Our personal relationship with the Savior Jesus Christ.
There is a world full of children, youth, young adults, and maturing adults who are lost, church, who are living in fear, who don't have the information or relationships they need, who are seeking and who are finding things that cannot and do not satisfy or bring hope for life.  There are people paralyzed by the fear of addition, poverty and racism and violence.
Heeding the call of Christ to go and teach can literally mean the difference between life and death for these persons.
We do not need,  and God does not want this generation passing away, not having known about the ability to receive and say yes to God's promise of forgiveness.  We know that we all teach something by how we live our lives, by what we say and how we treat others.  So what are you teaching?
I want to remind you that when Jesus said go and teach, he was pretty specific about what he said we were to teach.  He said to teach all that I, all that Jesus has taught and commanded.  How will those who are lost, how will those who do not yet fully know Christ come to know the saving life and hope of Christ if you have not placed yourself fully in God's hands relying on the promise of Christ?
You see, you cannot go and teach, you cannot go and give something, teach something, model something, that you have not yet acquired, spent time in, consumed or learned for yourself.  To know, to learn from, to grow stronger in the good news of Christ, that's what we are called to today, as we come around this table.  Today as we gather around this table we praise God for those who shared and showed us the good news, taught faith to us, our children, those who helped continue the life and teachings of Christ in our community, we thank God and praise God for those who God uses to bring us to know Christ and help us grow in Christ.  We are unfinished.  We have more growing to do.  Most of all, we need to thank God as we gather around this table for a love that will not let us go.  A love that is revealed in Jesus Christ.  So, church, go and teach, make disciples by teaching.  Make disciples by being living examples of the way of Christ through your actions and words and deeds.  This world is in desperate need of hope, desperate need of love, and life, desperate need of the salvation and life that only Christ can give.  And you, and you, and you, and me, we may be the only gospel they meet.  Go, and teach.  Amen.